Welcome to the Lek Trek Website!

Can you walk the walk?
The Lek Trek is a 565-mile walk across Missouri sponsored by the Missouri Prairie Foundation. It will span the state from Iowa to Arkansas, taking trekkers through the best of Missouri's prairie country. Sixteen special events are planned in towns along the way to celebrate our prairie heritage and highlight the importance of grasslands.
Named after the "lek" (courtship ground) of the greater prairie-chicken, the Lek Trek is a campaign to raise awareness of the value of grasslands - and the plight of grassland plants and animals. It will also raise funds to further the work of the Grasslands Coalition, which helps Missouri landowners improve their grassland habitat. The Lek Trek will provide hundreds of exciting opportunities to relive our colorful past, relearn the secrets of our prairies and discover ways to improve and make the most of this valuable natural resource.
---
Click on any town marked by an orange dot to find out about special Lek Trek events being held there. Return to this map often; new events are being added regularly!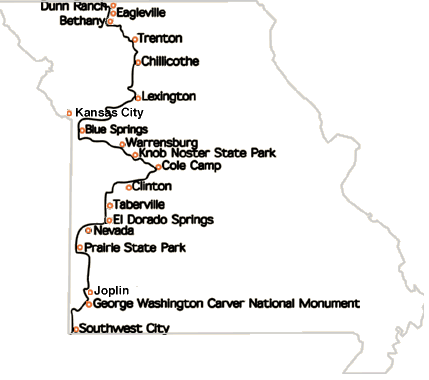 ---
The newest Grasslands Coalition member, the Food Circles Networking Project, will have a presence at several Lek Trek Special events.
This site last updated 02/02/02